Westcott: Cutting Edge Innovation
Westcott has been a world leader in cutting and measuring for over 140 years in the following markets:
School
Office
Craft & Hobby
Sewing
Westcott's award-winning products can be found in nearly every fine retailer in the U.S. and Canada.
New Full Colour Downloadable E-zine with Links to Image Artwork.
Take a look today!
Available in English and French. Your local office/school products dealer will be pleased to provide pricing. If you don't know of a local provider, please contact Customer Service or 1-800-265-2310.

Scissors and Rulers are our Products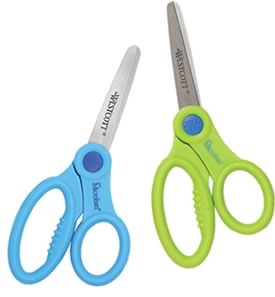 Westcott began as a scissors and ruler company selling into offices and schools around the world, and because of our quality and innovation, we are now the leading scissors and ruler brand in North America and the first choice for teachers, professionals and students.
Following this success in scissors and rulers, Westcott extended to other precision categories for a more complete product offering to include:
Scissors
Rulers
Paper Trimmers
Pencil Sharpeners
Geometry Tools
Erasers
Clipboards & Sheetholders
An extensive range of office accessories
Scrapbooking Tools
Thread Snips
Seam Rippers
A wide assortment of sewing products
Titanium Bonded Technology
We are leaders in making and redefining all of these products. For example, our patented Titanium Bonded Technology creates superior cutting power at an unbelievable value for such great technology. The use of Titanium Bonding makes the cutting edge 3 times harder than steel alone ensuring that the blades:
Stay sharper for longer
Are non corrosive
Resists adhesives better